About
Nature and You.
Tucked 80 km away from the Shimane Peninsula lies a natural wonder far, far from your city. Nestled 3 to 4 hours away by boat, where only the waves and wind can take you.

This is Ama Town on Nakanoshima of the Oki Islands. Completed in 2021, the hotel Entô is a safe haven that sits within the Oki Islands UNESCO Global Geopark and Daisen-Oki National Park.

We proudly present to you Earth's scenic beauty that spans far and wide before your eyes. Entô is a hub for all Geopark activities, a place to stay within the Geopark, and also serves as a connection point between locals and visitors. However you choose to pass your time here is up to you.

Daydream while watching the boats come and go. Hop on a bicycle and circle around the island. Take a late night stroll and embrace the stillness of the peaceful dark. Admire the hotel's exhibits on display. Bond with the locals at the terrace. You will find that every activity at Entô is connected to the Earth. Leave your heavy baggage behind at Entô, step out into nature, and enjoy yourself freely.
Oki Islands is made up of 2 main regions called 'Dōzen' and 'Dōgo'. Entô is located on Dōzen, which became a caldera 6 million years ago due to volcanic activity. As a result of Earth's powerful natural phenomenon, a place of magnificent landscape and views was born. Dōzen's 3 islands - Nakanoshima, Nishinoshima, and Chiburijima - surround its very own inland sea. These 3 islands are part of the volcano's outer rim, and the gentle inland sea was formed due to sea water flowing in and filling up the sunken part of the caldera.
There are 3 ways to get here - Ferry, the Rainbow Jet (high-speed ferry), and airplane. Even by airplane, you will still need to take a ferry from Dōgo's Saigō Port to Hishiura Port. It is a long journey, but once you reach Hishiura Port, Entô is only a 3-minute walk away.
An Introduction to the Geopark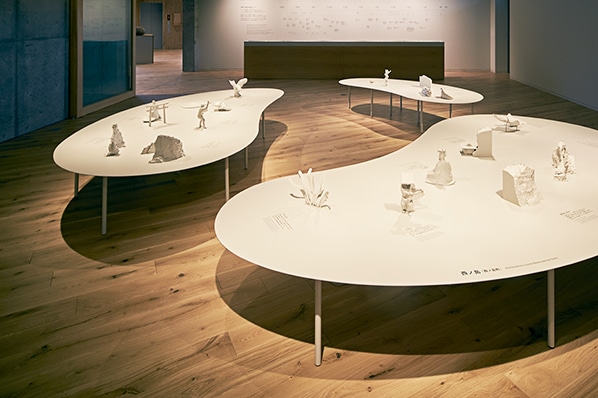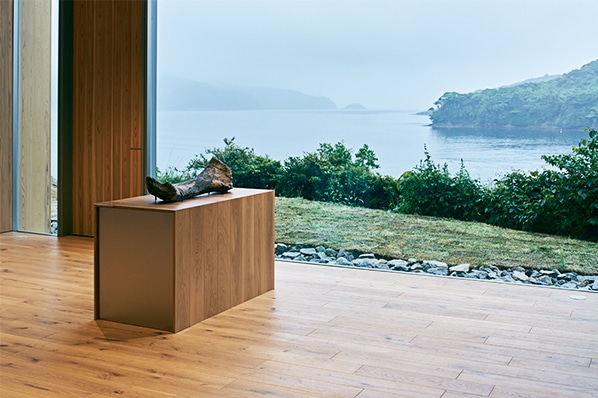 Entô, being a hub of the Geopark, also has an exhibition room called the Geo Room "Discover" (entry is free of charge). It is packed with fascinating information and knowledge that will help you understand and further enjoy the life and natural structures you come across in the Geopark. You can also enjoy some exhibition pieces on display at the terrace and hotel lounge. We hope you learn something new.
Name:

Entô
Address

375-1 Fukui, Ama Town, Oki-gun, Shimane
Tel

+81-8514-2-1000
Building Area

Approximately 5666.21㎡
Structure
(New Building)

Wooden construction / Using CLT (Cross Laminated Timber)
Scale (New Building)

2 Stories, 1 Basement Level
Rooms

18 rooms (New Building), 18 rooms (Main Building)
Open for business

July 2021
Owned by

Ama Inc.
PM

Lendlease Japan Inc.
Architecture by

MOUNT FUJI ARCHITECTS STUDIO
Design

Nippon Design Center, Inc.
Naming

Norimitsu Korekata
(Nippon Design Center, Inc.)
Photograph

Kentauros Yasunaga
Entô is made up of 2 Japanese characters, "En" and "Tou". "En" means "far" and "Tou" means "island". Together, it literally means "an island far away". However, it also has a deeper meaning which is "exilement to a faraway island".

Oki Islands was designated a land of exile a long time ago. 
While the islands were far away and remote, it also had an abundance of spring water, making it a land that was fairly comfortable to live in. This made it the perfect location for nobles like past emperors Go-Toba and Go-Daigo, and the heian period poet Ono-no-Takamura, to be exiled to. Among the many nobles exiled there, Emperor Go-Toba stood out as a noble who spent the remaining 19 years of his life in Ama Town, where he discarded his title as a nobleman, immersed himself in the grandeur of Oki Islands, and lived humbly among the islanders.
The Oki Shrine was built in fond memory of him, and even till today, the locals refer to him endearingly as "Mr. Gotoban". 

This is an island far removed from the city. A tiny but magnificent spot on Earth. There are no convenience stores or movie theatres. It is a place free of man-made distractions, where people can return to their true selves. A place to start afresh, find inspiration, and embark on a new personal journey. In a world where an airplane can take you anywhere, where the value of "remoteness" has risen, as well as people who have gained an appreciation of it. To us, such remoteness, even in the form of a land of exilement, is our pride.
The name Entô is packed with all this history and emotions.
Entô's roots come from 'Ryokusuien', a locally run holiday inn that opened in 1971. It expanded in 1994 and was renamed as 'Marine Port Hotel AMA'. Since then, the main building and the annex (Ryokusuien) have continued business as a hotel. Recently, together with the decision to renovate the main building, it was also decided that the annex would be rebuilt as a completely new building. Thus, Ento was born.