Facility
Entrance to the Geopark
Entô features accommodation facilities such as guest rooms and a hot spring, as well as areas to maximize your experience of the Geopark's attractions in one location. You may have unexpected encounters - every signpost, every piece of furniture... this facility is connected to the geopark that stretches before your eyes outside the windows, making Entô 'the base where you can stay'.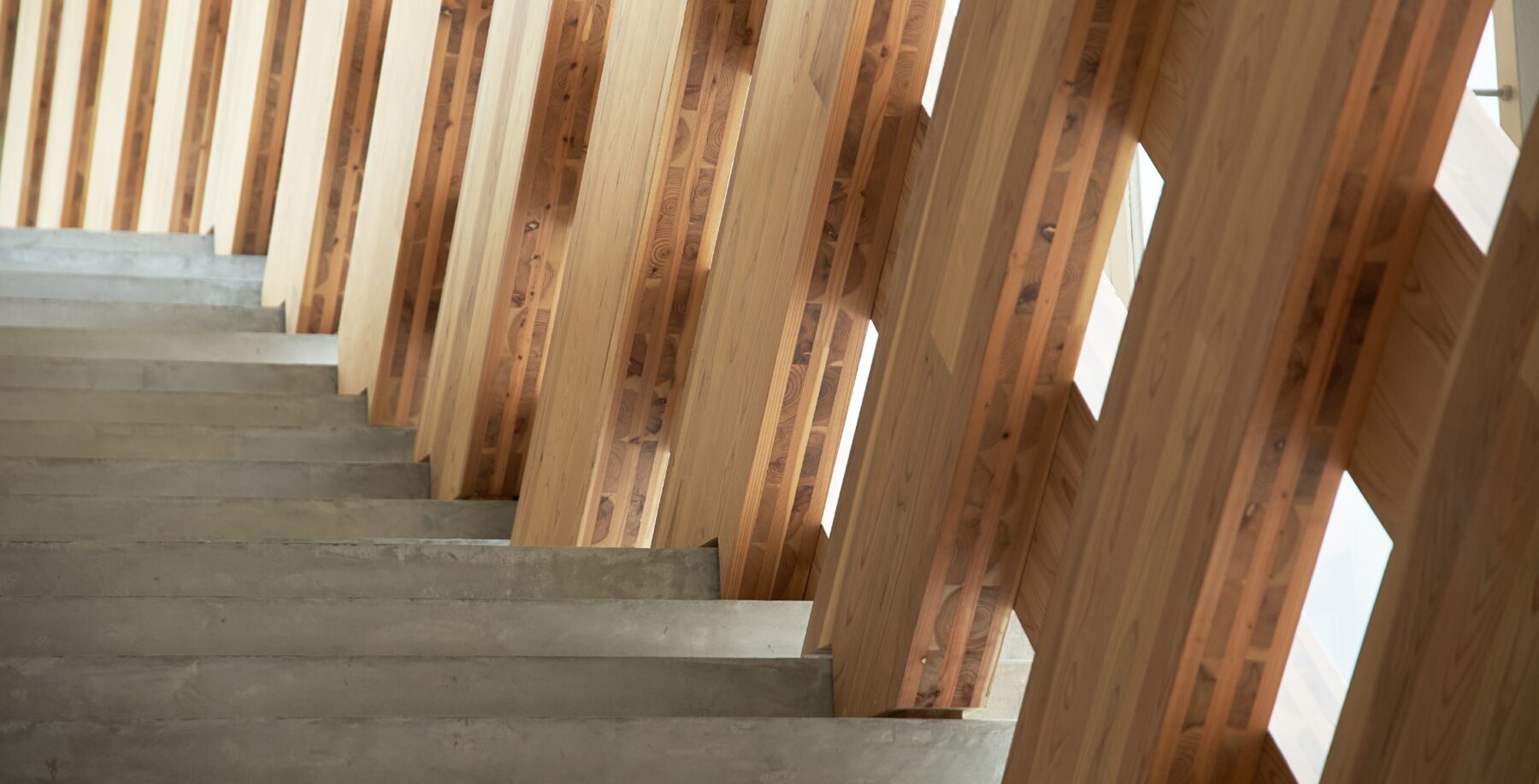 Prepare to experience the real thing.
Entô, the Geopark's base facility, has an exhibition room called "Geo Room 'Discover'" (Admission: Free), where you can learn about the origins of the Earth and Oki, as well as discover the charms of the three Oki-Dōzen Islands. Once you have completed your preparation, head out into the ever-changing field of study (the Oki Islands) to discover the colors, sounds and smells that only the real place can share with you. Experience this geopark with your whole body - the scenery that can only be seen right now, the unique natural environment and the special way of life that can only be found here.
Connect with the ancient past.
On the 1st floor of Entô NEST (annex) is a large window-sized 'Geo-Scape' alongside fossils of dinosaurs and other paleontological creatures on display. Oki, which has undergone continuous geological changes over billions of years, is now the islands that you see right in front of you. Visitors can relax on the sofa and feel the passing of time.
---
We proudly serve fish, meat, fruit, and vegetables supplied by producers on the island, alongside seaweed and spices harvested by the staff of our hotel – foods that play a leading role in bringing colour to our hotel kitchen. Guests at this hotel will be treated to a unique dining experience where they can enjoy special course meals that can only be tasted on this island, and feature dishes skilfully created by our devoted chefs using seasonal ingredients.
---
It is said that the sodium and calcium chloride spring water (mild alkaline simple spring) here will help bathers to recover from fatigue. We invite you to gaze out to sea and watch boats come and go as you soak in this natural hot spring.
---
Next to the entrance hall of the main building (Entô BASE), you will find a "Select Shop". Here you can purchase some of the tastes and aromas you encountered during your stay, as well as Entô original goods and other Oki delicacies selected by our staff. Original postcards taken by photographer Kentauros Yasunaga are also available. Please visit this shop.
---
On the 3rd floor of the main building, there is a large room known as the 'Banquet Hall' which can be used for a variety of special events such as important meetings and lavish feasts.
---
Vending Machines
Coin Laundry (Washing Machine: ¥200, Dryer ¥100/20 minutes)
Smoking Room
Massage (¥4000/30 minutes)
Fishing Equipment (¥500 – fishing rod, bait, and bucket)
*All buildings and rooms are non-smoking. If you wish to smoke, please use the designated smoking room.
*Payment can be made in cash, or by credit card (JCB, VISA, Mastercard, AMEX, UC, DC, NICOS, or debit card) or electronic money (QUICPAY, iD, RAKUTEN Edy, nanaco, WAON, Transportation IC Card).
*We are not able to charge your electronic money cards.
---
The library is located on the 1st floor of the main BASE building, next to the hot spring, It is a public space where hotel guests and residents of the island are able to drop by and make use of this facility on a daily basis. This library is one of the many branches of the Ama Town Central Library (branches are also located in private homes, cafes and at the ferry terminal). Books in this library can be read on the sofa in the Geo Lounge surrounded by fossils, read standing up while looking out of the window at the ships moving across the sea, or taken back to your room and read at your leisure. Enjoy the sea view with a book in your hand - a time to discover something new about yourself and also a time to rediscover familiar scenery. We sincerely hope that, little by little, the "everyday" of the island and the "extraordinary" of Entô will blend together to create a one-of-a-kind facility.
---
Universal Support
Information
Here at Entô we strive to be a place where each guest can feel at ease.If you have any requests or suggestions about our services and facilities, please do not hesitate to speak with a staff member about this, as we want to make your stay the best it can be.
Universal Room (NEST JS)

This barrier-free room is ideal for guests who use a wheelchair or have mobility difficulties. Handrails have been added in the bathroom, toilet, and other areas of the room.

Slope

Each area of the floor has a sloped floor, so that guests who are in a wheelchair or who have limited mobility are able to move around the buildings with ease.

Level Differences within the Hotel

This hotel is barrier-free, with most of the facilities having only a small step or no step at all, making this a place that can be accessed easily by everyone.
Wheelchairs are available for rental at reception.

Carpark

There is a wheelchair-only carpark space located at the front of the hotel.

Multipurpose Toilet

There is a large toilet room that is wheelchair-friendly, has ostomate facilities and a nappy-changing table.

Elevator

The buttons inside the door are situated at a low position, making it easier for a guest in a wheelchair to use the elevator.
There are also Braille letters on the buttons.